W
ell, fall is here. And I mean full-blown fall. Rainbow foliage, lovely sunshine, chilling breezes, dried brown leaves w
hooshing below your feet. Fall in Munich is beautiful. When it's so fall-y. The sudden drop in temperatures just in time for Oktoberfest brought us beautiful foliage and stunning panoramas.
I spent the weekend in the alps, and boy oh boy, there are just postcards waiting to be made. Mountains dotted with rust toned trees, verdant green slopes blanketed with fallen leaves, but still the sunshine and the clear air enough to drink a bavarian beer in the open air.
In Buchenberg, the sun was shining and the ski-jumps that are so integral to the training of young (and mini) skijumpers were dusted with the traces of fall that we all so love. We took a long walk and the cow bells klanging accompanied us along our treck past plump red berried bushes and sun-sprinked hillsides dusted with such picturesque landscapes that I practically invisioned myself in that Robin Williams film where he walks through oil paintings. Van Gogh would have had a field day.
In Munich, fall is still stunning, if not somewhat dulled by the smoke and banter of a "bigger" city. When I climb the stairs out of the Ubahn every day, I am greeted by fall-tinted trees swaying in the wind and Cafes deciding whether to haul in their outside sitting and offer only a well heated interior or if they should deck all the hardy outdoor furnishings with fleece blankets and tempt cafe-goers with warm glühwein or spicy-warm fall teas with cinnamon and apples.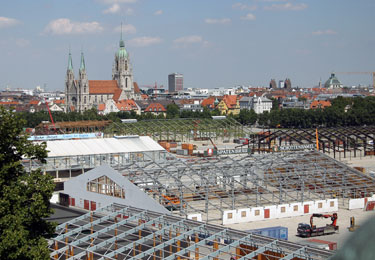 Oktoberfest is over but I drove by the Theresienwiese the other night and they are still dismantling the tents-- a bit of a somber sight, but then, we're all camping down for the long winter.
But not yet. I am preparing hardily for a festive halloween party with glowing jack-o-lanterns and costumed germans (i force them), a glutinous thanksgiving evening where i try to roast a turkey in my iffy electric oven and attempt to approximate cranberry sauce by using "johannesbeeren" currant jelly. I will enjoy those somber november months, before the air turns crispy and the cars frost over with drunken messages from wobbly teenagers on their way to the subway at night.
So there's still a pre-winter time. And it's not even "fall back" yet, where the evening hours are short and it's dark even before I leave my office at night. So I'm embracing the rainbow, crunchy, orange fall. Winter, you'll have to wait a bit.